Join a Trivia League And Compete Against Other Teams For A Chance To Win Thousands In Cash + Prizes. All Of Our Leagues Are Free To Join and Free To Play.
Register Now – Utah Fall League
Win Your Share Of Over $3000 In Cash + Prizes
for 1st, 2nd in the League standings +
1st and at the finals event.
How It Works
Register Your Team: First, Register your team on our website. You'll receive a unique 5 digit pin number. Keep it safe – it's your team's identity that you have to give to the GNL host EVERY TIME you play. Click here to register your team now.
Play Play Play:  You can play as many nights each week as you wish (you cannot play twice on the same night) as those points accumulate throughout the entire league season.
And remember, 1st, 2nd in the League standings at the end of the season win $$$$$.
Bonus Points: There are a number of venues where you can earn free points at each night just for playing there. See below for the list of bonus point venues. But don't stress too hard, all venues points count even if it is not a bonus point venue.
Check Your Progress: You can monitor your team's progress on our website's scoreboard. It's always thrilling to watch your points pile up, right?
League Rules
League play runs from September 10th – November 18th.
Finals date and locations: 
Sunday, December 17th
Doors open at 1:00pm – Game starts at 2:00pm
Bewilder Brewing Co.
445 S 400 W
Salt Lake City, UT 84101
Teams must present the same team name and 5 digit pin each night to the GNL hosts throughout the league for team scores to count toward this league.
The team maximum of eight players will be strictly enforced during the league. Teams that attend a GNL Trivia event with nine or more players will be required to split up, even if the team in question is registered.
Teams are encouraged to attend as many GNL Trivia events as possible during league play. A current, full schedule is printed on our score sheet as well as at gamenightlive.com. Your team can only play once per night.
Teams must attend and play at the finals to be eligible for any prize consideration. At least one core member of an invited team must be present and play at the finals event.
Any teams caught cheating by GNL will be docked points & may end up being disqualified from the league entirely (do not be a turd please). Speaking of turds…GNL can disqualify any team we want if you are being turds. FYI.
Bonus Points
Monday
-10
bonus
points
at Saltfire Brewing

Tuesday
-10
bonus
points
at Hopkins Brewing
-10
bonus
points
at Roosters B Street

Wednesday
-10
Bonus
points
at Bewilder Brewing Co
-10
Bonus
points
at The Coop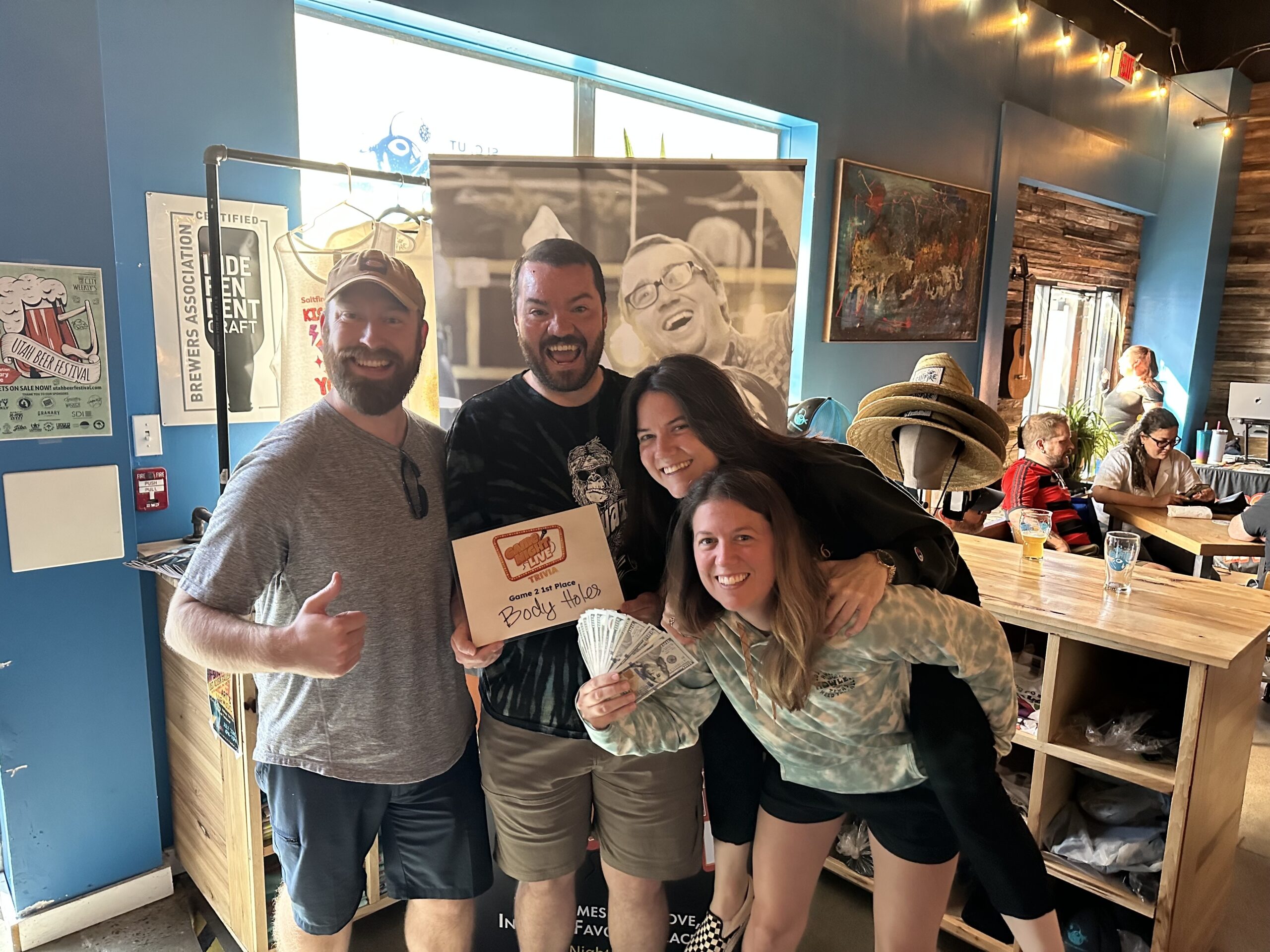 Standings – Utah Trivia League